Penniwells encourages riders to take part in competitions.
RDA Regional Dressage Qualifiers – We take between 1- 15 riders every year. If they win or finish 2nd in their class with over 62% they qualify for the RDA National Championships.
RDA National Dressage Championships – We have qualified riders for this every year since 1996 and produced many National Champions.
Royal Windsor Horse Show – They run an RDA fancy dress class sponsored by the Windsor Lions Club.
Test riding days – the riders perform their test and then receive a 20mins training session from the judge.
British Dressage Development Days – Usually held in March time riders are encouraged to take part in this before going onto compete seriously in Para Dressage.
British Dressage Para Winter/spring/summer Series Dressage Qualifiers
This is progression beyond RDA Dressage – The riders must have a good support network behind them along with commitment to the sport. These all qualify for their appropriate championships.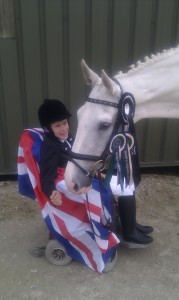 Show Jumping – 2013 Penniwells RDA will become a Level 3 Show Jumping Centre & offer the opportunity for our riders to compete within RDA Show Jumping for the first time.We will encourage & support all riders in competition at all levels. 2015 became Level 5 SJ Centre.
Anyone interested in taking part in RDA or Para Dressage please contact Sarah Healing at Penniwells.