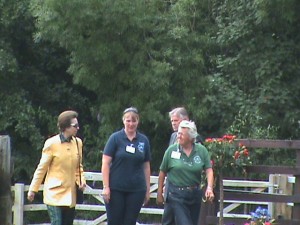 On Friday 25th July 2008 we were delighted to welcome HRH The Princess Royal to Penniwells.
With great guidence from Davina Cannon & Julie Dargie from RDA National we pulled together a fantastic day for Penniwells RDA!
At 11.50am we had word that Her Royal Highness The Princess Royal had landed by helicopter at Elstree Aerodrome and she would be with us very soon. Over 200 people – a mix of riders, volunteers, guests and parents/carers were ready and waiting for her arrival. The atmosphere was electric with anticipation. This was also a great opportunity for our entire Penniwells team to be introduced to everyone.
On arrival HRH The princess Royal was introduced to all our civic guests followed by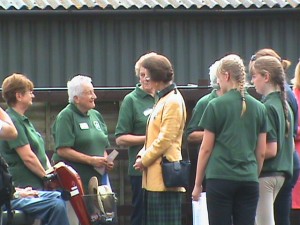 Ed Bracher – RDA Chief Executive, Diane Jeffries – Our Regional Chairman, Felicity Hall – Our County Chairman, Trix Summerfield – Penniwells Chairman & Sarah Healing – Penniwells Group Organiser. Accompanied by Chairman of RDA and her own Lady in Waiting on the day Jane Holderness-Roddam all were seated on the balcony of the new building.
A drill ride set off the proceedings – Stuart Henson & Jazz, Louise Willmott & Prince, Chris Mayor & Pod and Paul Thurgood & Louis performed a drill ride to the theme of 'Superman' – chosen by our riders. Her Royal Highness enjoyed watching this. These riders were then joined by 9 other ponies and volunteers who were all to receive long service awards for the time given to RDA.  Our commentator was Bob Hayzen with music man James Frayne for the day.
The ponies to receive awards on the day were: Jazz, Prince, Louis, Ginger, Migs, Jasper, Nicky, Flossie & Tyson. The Penniwells Trustees were all presented to HRH Princess Anne in the line up.
The volunteers to receive awards on the day were:Ernie Pearse, Sue Durward-Akhurst, Liz Clarke, Margaret Portelli, Margaret Collins, Angela Weyman, Nick Durward-Akhurst & Penny Raynsford.3 volunteers received special awards for over 25yrs service to RDA:Arthur Field, Rosemary Prebble and Angela Hall.
On completion of the awards Her Royal Highness made her way through into the audience where she was introduced to all our riders, volunteers & guests. She spoke to every one of them and gave each a rosette in order to remember the occasion. This was a special time for all our riders and volunteers to really share in the visit and feel very much included and part of it.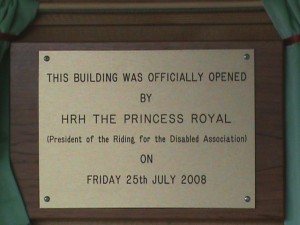 Once HRH had met eveyone she made her way back to the entrance of our new building – We then invited her to officially open the building and we were delighted to have her say a few special words for us. She really summed up our centre in a couple of sentences – this was a very emotional moment for all of those who have been involved over many years helping to make it happen.
Liz Clarke then presented a framed poem along with Rachel O'Dell presenting the bouquet. The beautiful bouqet was supplied to us by Imogen Semken.
The Princess Royal enjoyed a small lunch while everyone made their way down to the indoor arena to enjoy a buffet lunch put together by the charity Adepta.
It was lovely to see so many come out to the entrance to see HRH The Princess Royal when she was ready to leave. The day was a huge success and I know I would like to thank all staff, trustees and volunteers who worked so hard in making it happen.
There really are too many names to mention but I am sure you all know who you are!
However, I would just like to mention one special name as I do feel on the day this made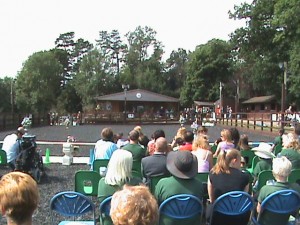 an enormous difference to how the arena and building looked. The flowers were all supplied by Jayne-Anne Floral – Barbara Paul packed her van as full as she possibly could on Thursday to get them to us.They looked fantastic! Thank you.