Our ponies need your support – Penniwells Pony Sponsorship
If you would like to sponsor a pony during this time of closure please email your details to:
penniwellsrda@outlook.com and include the following information:
Name on certificate
Name of pony
Name of who is paying
Can we claim gift aid? Are you a tax payer?
Full address
Email to send the certificate to.
All certificates will now be emailed to you for you to print.
You will then receive confirmation of your sponsorship and given bank details to make an online payment. If you are unable to do online banking a cheque can be made payable to Penniwells Riding Centre and posted to the centre.
It costs Penniwells £4000.00 per week to remain open – We rely entirely on donations and good will to raise this money so if you can help us by sending a donation it really will go directly towards the upkeep of our ponies. We cannot do what we do without our wonderful ponies.
Please make cheques payable to: Penniwells Riding Centre and send to Edgewarebury Lane, Elstree, Herts WD6 3RG.
The Penniwells Pony Team:
Ponies to be added with the next update are:
Dougal
Baxter
Bertie
Peggy – 13.2hh Welsh Cob Piebald Mare – Sadly Peggy was diagnosed with Lymphoma in April 2020 – she became very poorly very quickly. We know our riders and volunteers are going to be sad when they return from this closure time to find her no longer here. RIP Peggy and thank yo to Gemma for letting be a much loved part of our pony team.
Peggy enjoys therapy sessions and is now also doing very well taking some of our riders off lead rein. 2017 – She went to her first regional competition and will be heading to her first national Championships in July to take part in the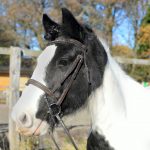 Countryside Challenge.
Tyrcoedbach Rowena – 13.2hh Ana Welsh C Bay Mare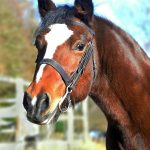 Ana is an essential part of the pony team, a real confidence giver aswell as a reliable pony to take to competitions. A true favourite friend to many riders.
Hobcroft Rowan 14.3hh 7 yr old Highland owned by Jackie Sheer on loan to Penniwells RDA
Rowan has settled in well and has begun enjoying some lead rein lessons. She is only young and so will be undergoing educational training before going into all our sessions.
Sonny 26″ Miniature Shetland owned by Penniwells RDA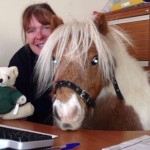 Sonny accommodates our smallest riders and really enjoys helping out with publicity. He is the cutest and cheekiest pony at the Centre making regular visits to the office!
Puzzle 14hh Piebald Mare Owned by Penniwells RDA
Puzzle is a very popular and all round pony who loves to work hard in both walk lessons and the faster ones including her love of show jumping. She competed at RDA Regional & National Championships.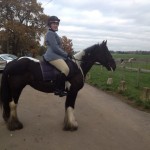 Beauty 11hh dun mare Owned by Penniwells RDA
Beauty is a very happy pony and doing very well with our smaller riders . She has sadly missed Flossie since we lost her as they were best friends and did lots together. I am sure she will settle and make new friends. She has had a busy year making newspaper appearances and enjoying her lessons.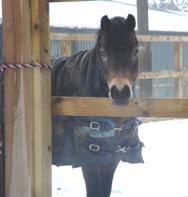 Coco 14.1hh grey gelding Owned by Penniwells RDA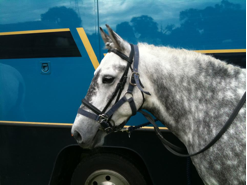 Coco has really grown up over the last year and has integrated into many more sessions with all our riders. He loves to go to shows and was impeccably behaved at his first RDA Championships in 2014. A real character he loves to play football in his stable amongst his variety of toys!
Jago 15hh piebald gelding On loan to Penniwells RDA – Jago retired back to his owner Sam in 2019 – thank you Jago for being a special part of our pony team.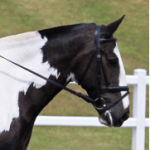 Jago has had a busy year competing on both Regional & National RDA Dressage aswell as the Talent Spotting finals earlier in the year. He excels with all levels of rider and really enjoys his work here. Jago has topped his career by becoming the BD Grade 1a Winter Para Dressage Champion 2014 along with Penniwells rider Michael Murphy.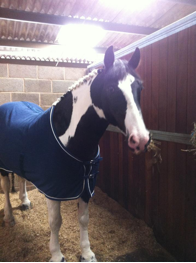 Oakfield Pod 15.2hh piebald gelding Owned by Penniwells RDA – Sadly Pod passed away December 2019 – he was a great favourite and will be missed hugely.
Pod has had a busy year competing in Regional & National Dressage – He helped crown one of our riders National Champion 2012. He continues to excel with levels of riders fully enjoying life at Penniwells.
Prince 15.2hh black gelding Owned by Penniwells RDA- Prince is retied from ridden work but still loves to be fussed and groomed by everyone.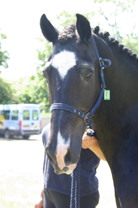 Prince is fit and well and still enjoying lessons of all levels. He competed in the Regional Dressage this year. His is great friends with Tyson and enjoy their free time out in the field together! Prince was crowned RDA Horse of the Year 2015.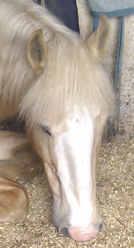 Tyson 15.2hh palomino gelding On loan to Penniwells RDA – Tyson was a great favourite and did many years as part of our pony team – Thank you to Debbie Towson for letting him spend a big part of his life with us. RIP Ty Man xx
Tyson is enjoying time out in the field due to an injury and is not taking part in lessons at this time. However he is fit and well and will hopefully continue to improve and come back into work over the summer.
Those who have touched the lives of many and will never be forgotten:
Knockcor Ruth – Lola 15.2hh Cob old piebald mare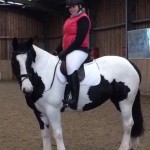 Lola was a young cob with a big future – In November 2016 she had begun some walk lead rein sessions and was thoroughly enjoying her time here. Lola went to the Royal International Show at Hickstead in July 2015 and will start to take on some dressage and show jumping over the winter into 2016. In 2017 Lola had begun some unled walk & trot sessions and was doing very well.
Sadly Lola had a back problem which could not be fixed and we have had to say goodbye to her. A really sad day for a horse with a big future ahead of her.
Brockholm Royal Vagabond 13.2hh chestnut gelding On loan to Penniwells RDA
Vinnie was a ver special Penniwells pony – He competed at the Regional & National RDA Championships many times as well as winning gold with Michael Murphy in Belgium. At the good age of 25yrs we sadly had to say good bye this year. he leaves many happy and fun memories.
Kismett 13.3hh skewbald mare owned by Penniwells RDA
Kismett was our newest addition – she competed successfully at our regional event and will be took riders to The RDA Championships in July 2014 & 2015. A very popular pony whom we very sadly lost on August Bank Holiday weekend 2015.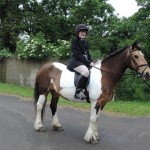 Oz 15hh coloured gelding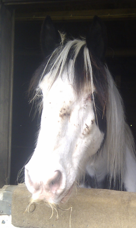 Oz has now returned to his owner for his retirement – Thank you to Helen for loaning him to us.
Marble 14.1hh tri coloured gelding
Marble was a highly popular pony at Penniwells even though he only joined the team last year. He was so versatile and really did change lives in the time he was here. Very sadly we lost him to colic in April 2014. I am sure he will be remembered for a long time and he is very much missed by everyone.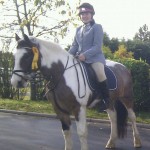 Louis 15hh piebald gelding Owned by Penniwells RDA
We very sadly lost Louis at the of 2013 – He had a fabulous life at Penniwells and touched so many lives. He will be greatly missed by everyone. Louis competed at our Regional Dressage this year and has enjoyed all his riders from beginner through to the more advanced – He has really benefitted the most from the Haygain Haysteamers as he suffers from Asthma but since having these he has stopped coughing and is fitter than ever!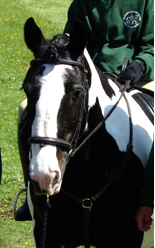 Flossie: The sad news is that we have had to say goodbye to Flossie in November 2012. She gave so much to Penniwells teaching many riders over the years. She lived to be 33yrs old and was still being ridden up to the end. We will never forget Flossie and all the lives she has touched along the way.