THE PENNIWELLS TEAM:
All our staff are well qualified – many come from having worked in other yards within the equine industry and have British Horse Society Qualifications. They all undergo training at the Centre and are expected to gain the RDA Group Coaching Exam within a year of starting work with us. Staff are then encouraged to go on further and take the RDAC exam along with NVQ's and BHS exams. Staff school and hack out the ponies along with receiving regular training in order to keep progressing.
Sarah Healing: BHS Stage 4 Accredited Coach & RDASenior Coach
Centre Manager & Coach
BHS Stage 4 Accredited Coach * Listed on British Dressage Para Trainers Database * UKCC Level 3 Coach Educator & Assessor * National Training Advisor *Level 4 RDA Show Jumping Coach *National RDA Dressage Committee Member *Regional RDA Coach for Greater London*
I Joined Penniwells RDA Centre in 1994 and have seen the Centre grow hugely since that time.

Lucy Stevens RDAGI: Part Time Instructor/Groom
Started at Penniwells RDA in 1999 as a full time member of staff. She has since had 2 children and now works for us part time.
Lucy's favourite thing is working with the riders in the school – particularly the more therapeutic sessions.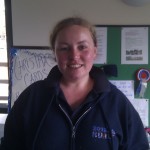 Lauren Beswick RDAGC BHS L2 complete
Lauren is an RDA Group Coach and has now completed BHS Level 2 Complete. Lauren started in 2017 and enjoys coaching all levels of riders.
Anya Tobin RDA Group Coach – Pink
Anya came to us in Feb 2018 and is an RDA Group Coach. She enjoys coaching riders and schooling the horses. Anya's favourite pony is Bertie.
We have 1 staff vacancies at this time – Go to Yard & Groom UK for full details